Jeff understood "theater of the mind" as only the son of a radio veteran could. He blended innate brilliance with experience far beyond his years to create an unbeatable combination of good humor and great character voices.
[Excerpt Pertaining to "Buffalo Dick's Radio Ranch" from the book "Local D.J.", by Peter C. Cavanaugh]
Jeff Lamb was the son of a famous Flint radio announcer named Bill Lamb. Bill was then working directly for Buick Motor Division, hosting a morning and afternoon show called the "Factory Whistle" on country station WKMF. It was a .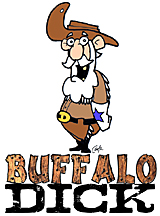 good job. Jeff was thus a "second generation" broadcast talent, although he had never yet been officially "employed" by any station. At eighteen, Jeff started playing records at "disco" establishments. He was quite the entertainer. He did magic tricks, jumped all over the place in animated frenzy and told crazy jokes. He was an "act".
Jeff also did "voices" and would hang around the station and spend substantial time bothering our secretaries and anyone else who might wander by. For Jeff, any audience was a good one. He would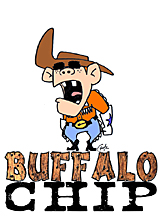 be ostensibly "visiting Peter C.". Jeff would often be in the building for hours before finally reaching my office. I couldn't figure out what to do with him. Then, I had a brainstorm. My idea was to initiate "WWCK Saturday Morning Cartoons" on 105 with our normal music format in place, but with Jeff doing "cartoon voices" instead of having a regular disc-jockey on-the-air. I thought it was ingenious. I asked him to prepare a "demonstration tape" of possible voices for the exercise. He agreed and returned several days later, cassette in hand. He had spent considerable time in reflection. He told me that my "Saturday Morning Cartoons" idea was "stupid". I listened patiently.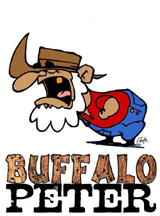 Gifted talent usually lacks tact. He had come up with something "much better" and guaranteed that I would "laugh my ass off".
The concept was delicately presented as "Buffalo Dick's Radio Ranch". It was a parody on the old "Howdy Doody" TV show for kids. Instead of "Buffalo Bob", you had "Buffalo Dick". In place of "Howdy", there was "Buffalo Chip" as primary sidekick. There was an audience of kids. There was an engineer named "Buffalo Peter", a homosexual policeman named "Officer Skip" and a spaced-out phone caller named "Raymond". Any number of "guests" would be passing through the show. The possibilities were endless. The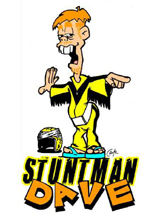 content was double-entendre from start to finish, but in a remarkably clever way.
"Buffalo Dick's Radio Ranch" was scheduled as a one-hour program Saturday nights at 10 p.m. There was an "Open", a "Close" and five "Inserts". Everything else was straight Rock 'n Roll music. Each "Insert" was a four or five minute comedy segment. All of "Buffalo Dick" was painstakingly produced by Jeff at home on his Dad's equipment. He did all the voices and used sound-effects, musical staging and creative enhancement with unbelievable skill. Jeff understood "theater of the mind" as only the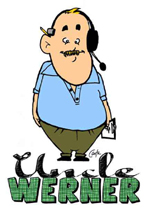 son of a radio veteran could. Jeff blended innate brilliance with experience far beyond his years. It was an unbeatable combination.
An opening track of "Who's Afraid of the Big Bad Wolf" started each broadcast with the disclaimer. "It's

time for Mom and Dad to leave the room, 'cause your old pal Buffalo Dick is on the air!!"
"Buffalo Dick's Radio Ranch" started in early October on WWCK. Listener response was magnificent. Ratings were to go sky-high. Billboard Magazine would judge "Buffalo Dick's Radio Ranch" an award winner as "Best Local Programming/All Markets" the following year in national radio competition. Westwood One would syndicate the program on nearly a hundred stations by 1982. Conventional wisdom would have said the concept was too "far out" to ever work, which is exactly why it did.