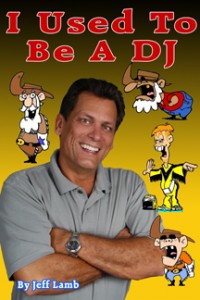 [This is an excerpt from Jeff Lamb's  book "I Used To Be A DJ" Available NOW!!]
Just Hanging Around
My brother Bill was the number one salesman at WWCK which was the number one radio station in Flint, Michigan.  I wanted so badly to be on the air.  During the day, I would hang around almost everyday and  almost all day at the radio station under the premise of "visiting Bill" or "visiting Peter C. Cavanaugh".  Peter C. was a Flint radio legend who had given up being on air and was now the GM of WWCK.
I should preface this part of the story with some as yet not mentioned background.  During my high school years.  I would listen to a call in talk show on WTRX that was hosted by Wally Kennedy.  It was a great show with open lines to talk about anything.  Wally didn't have an agenda like all the talk show hosts do today.  He would just "visit" with his listeners five nights a week from 7-11pm.  I mentioned earlier that I wasn't a bad kid.  But I was mischievous.  I would call Wally's "Flint Feedback" show not just nightly, but several times a night.  These calls would be anything I could think of to get on the air.  It didn't take me long to figure out how to get passed the call screener .  I had to change my voice and name with every call and have a pretty compelling premise.  Hey what's a bored 16 year old supposed to do?
One night I called as a Foster Brooks drunk to talk about how alcoholics anonymous had helped me.  Clearly. as a drunk this made for a fun call for Wally.  Another time I called as a man who'd been arrested and this is my one phone call I knew my wife wasn't home and I really hoped she was listening. I called back a few hours later to tell Wally that she came and got me!  My Favorite Call  was when I called him (supposedly) from a payphone just to shoot the breeze.  A friend of mine, David W. Grant had just been fired that day from the radio station and of course in radio, they never talk about firings on the air.  The DJ just "Goes Away."   So I was trying to get Wally to talk about  The firing  of David Grant.   Just as I'm getting to the point of my call, the operator (my friend Mary on another extension) cuts in to tell me to deposit another twenty-five cents or signal when through.  I told her I didn't have any more change but let me ask around the store.  While I was shaking people down for a quarter, Wally starts hitting on the operator.  This went back and forth several times and it was a personal record for me as the longest time to keep Wally on the line without being dismissed.  The point of this whole excercise is that, in the process, I learned to do a LOT of voices while pulling Wally's leg.
Operator #7
Back to the lobby at WWCK several years later.  I would sit in the lobby and try my material on the receptionist and the bookkeeper who both sat in the lobby.  Finally after a few weeks of this day after day, Peter C. called me into his office.  He said, "Jeff, I have this idea for a Saturday morning radio show and I think you'd be perfect!  I want to call it, 'Car tunes'.  It would be all your cartoon voices introducing records.  Yogi Bear and Boo-Boo, Jinxy the Cat.  You get the idea."   Peter C. remembers me saying, "That's stupid, I've got a better idea."  I don't remember those exact words being said, but I know I was thinking it.  I still haven't learned to engage my brain before my mouth.  The idea I had was a show that would be a spoof on the old "Howdy Doody Show" or any number of kids shows that were on TV with kids sitting in a live gallery like on "Bozo" or "Mr. Magic".  Only this show would have "Buffalo Dick" instead of Buffalo Bob.  And instead of "Howdy Doody" Buffalo Dick's sidekick would be "Buffalo Chip" and a whole host of guests.  Pete said, "Well go put a sample together for me and let me hear it."
Well I raced home and started writing the first show.  It would be sound effect intensive to create a "Theater of the mind" feel.  In other words you don't just listen. You actually picture everything that's happening.  You see in your mind what they look like and you can see the gallery of kids and so on.  The first show was Buffalo Dick and Buffalo Chip talking with Patrolman Skip.  Patrolman Skip was clearly a gay cop who brought a movie for the kiddies to illustrate safe street crossing.  The projector starts and the kid starts across the street without looking and you hear brakes screech and the kid get slammed by the car.  The kids in the gallery start cheering wildly.  You could SEE it with your ears.  I headed back to the station with my tape in hand.
This is the first ever Buffalo Dick Show (before Radio Ranch)
I need to say right up front that Peter C. is THE best audience.  He laughs… stomps his feet, claps.  He's THE guy you want to play something like this for.  He did all of the fore mentioned and said, "Can you do that every time?"  I said, "What?"  Pete went on, "Make it funny like that EVERY time?"  I told him I think so because I have a lot more ideas.  Pete said, "It's going to need a name."  He came up with "Buffalo Dick's Radio Ranch."  It was perfect!  Then he said, "I want you to put five shows in the can and if they're all as funny as that, you've got a show."  We soon realized after hearing all of them they were much better suited for 10:00 PM on Saturday night!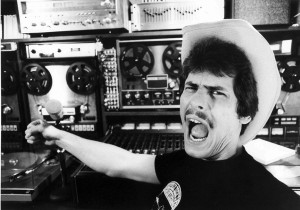 Me in my home studio
The shows were all pre-recorded and timed to be 2 – 4 minute segment.  There was a show open at the top of the hour followed by five segments at ten, twenty, thirty, forty and fifty minutes after the hour.  The station played rock tunes in between the segments then there was a show close at 11:00 pm.
The show always started out, "It's time for Mom and Dad to leave the room cuz your old pal Buffalo Dick is on the air!!"  I needed a live gallery of kids to cheer and say, "Howdy Hi Buffalo Dick" and "Howdy Hi Buffalo Chip" and boo and clap and welcome each guest.  Where would I find a group of kids that I could record?
Remember Mrs. Bomeli, the Jr. High teacher who hired me first?  She is also the choir director at that Jr. High.  She agreed to let me come in and record the kids.  I brought a list with about one hundred different things including names of future guests for the show.  The kids were perfect because they were used to singing in unison and could yell all of these things in unison as well.  So now I had my live gallery.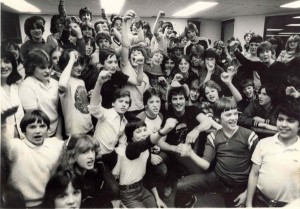 The original Buffalo Dick gallery
"Buffalo Dick's Radio Ranch" went on to get the highest rating in the history of that station for that time slot.  It won a "Billboard Magazine" award on March 27, 1981 for being the "BEST Locally Produced Show – IN ALL MARKETS."  I couldn't have been happier.  Or could I?  After everything that was happening for the show I decided to contact some syndicators to see if they had any interest in getting the show to a national stage.  I wrote to four of them and included a cassette of the show.  The one I was really hoping to hear from was Dick Orkin.  He was my idol.  He did "Chicken Man" and "The Tooth Fairy".  Two classic radio shows from the 70's.  It was that "theater of the mind" stuff I talked about.
I called Dick Orkin to follow up on the mailing and he said, "It's pretty good but Jeff, we don't syndicate anything we don't do ourselves, but good luck to you."   Within no time at all, "My Hero" Dick Orkin had totally ripped off the name and had a full page ad in one of the trade magazines promoting the new name of his commercial production house, "Dick Orkin's Radio Ranch."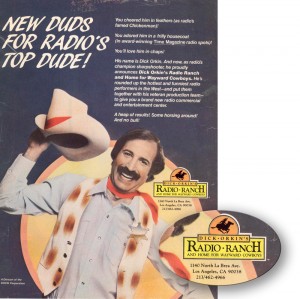 Dick Orkin's Radio Ranch Ad from a trade magazine
My first lesson in how smarmy this business can be.  I would later introduce Dick Orkin at a function in Toledo, Ohio.  I walked up to him after and said, "Hi, I'm Jeff Lamb.  I was wondering if you remember me?"  He said, "Have we met before?"  "We've spoken on the phone," I went on, "I had pitched a show to you in 1981 and you told me that you don't syndicate shows that you don't produce yourselves.   It was called Buffalo Dick's RADIO RANCH."  Suddenly there was someone else in the room that he needed to talk to.  What a tool.
I got a phone call from a New York Syndicator "London Wavelength."  They were very good and interested!  Later that same day I got a call from "Westwood One," the nation's largest syndication company.  They, too, were interested.  The next thing I know, I'm on a plane to New York to meet with "London Wavelength."  You can't imagine the thrill for a 22 year old to be flying to New York alone to possibly negotiate a contract for national syndication deal.  It was on!
When I arrived in New York I got to the baggage claim area.   Picked up my bag and thought, wait.  How will they know I'm here.  They said they'd pick me up.  Then I saw it.  You always see these guys, but they are never for you.  There's a man in limo driver's cap hold in a sign the read, "Mr. Jeff Lamb."
COOL!   I walked up in my blue pinstripe three piece suit with my suitcase and briefcase and said, "I'm Mr. Lamb."  Hell why not go with it.  The only time I'd been ever called Mr. Lamb by anybody was by a couple of male teachers who do that in that condescending way that only a teacher can.  So I went with it all the way.  He opened my limo door for me.  COOL!  A Limo!!
We drove straight to the London Wavelength office.  I was rushed right in to Michael Vaughan's office and was introduced around.  He was the president of London Wavelength.  It was a whirl.  Why did this seem so rushed.  Then Michael says, "Hey we've got a little surprise for you.  Just leave your bag here, it'll be okay and Jim will run you right over for your surprise."  Surprise?  What surprise?  We hurried out the door and jumped in a cab.  Jim said "30 Rock please."  I had no idea that 30 Rock was NBC's headquarters in New York.  We got there and walked in under a big marquee that read NBC!.  COOL!  I still had no idea why we were here.  We got on an elevator.  When the doors opened, we were in a lobby with a bunch of people standing in line.  What the hell?  Jim waved to an NBC page who motioned us around the roped off line.  Right to the front, where there was another page.  Jim then uttered what turned out to be a really cool pass phrase, "I'm looking for Dr. Danger."  "Right this way." replied the page.  Okay we were in a theater of some kind.  My first clue was theater seats.  I'm smart like that.  As we worked our way down the steps, the stage started to appear under all the monitors and lights hanging from the ceiling.  HOLY CRAP!  This is the David Letterman Show!  COOL!  They took me down to front row, center.
How cool was my surprise?  This was HUGE.  Then everyone else was let in into the theater.  Now the band members take their places.  Then out of nowhere, David Letterman wanders out.  I didn't know he did that!  He just started striking up conversations with everybody, then he came right up to me!  COOL!   David just stood there with his gap toothed grin on his face.  I'm thinking, "there's more to this surprise?"  No, not really.  Dave just thought he'd have some fun with the dork in the blue pinstriped three piece suit with a BRIEFCASE.   It was a little embarrassing, but hey I was getting ripped on by David Letterman!  Have at me!   Then he wrapped up his meet and greet with the crowd and went back stage to start the show.  Now I'm sitting wondering who his guests would be.  Paul McCartney?  Paul Simon?  Farrah Fawcett?  Man this was going to be cool!  Then the band started.  The announcer, "It's Late Night With David Letterman!  With Paul Shaffer and the world's most DANGEROUS band!  Tonight Dave welcomes Dr. Ruth Westheimer!  And author Blah Blah Blah…."   Okay, so it wasn't Farrah Fawcett, but it was still awesome!  I couldn't get over how real that city scene behind him looked.  Hey, I'm 22 years old, with an award winning radio show, in New York getting wooed by some big shots.  And they thought enough of me to take me to Letterman to impress me!  It worked!
When the show ended, we jumped in a cab and he dropped me at the hotel.  Jim told me my bag was already in my room.  It was.  My head was spinning and they hadn't even made an offer yet!!  I woke up to the phone ringing, "This is your wake-up call and your party will be here to pick you up in 45 minutes."  I showered, got dressed in my one blue pinstriped three piece suit and grabbed my briefcase and headed for the lobby.  Jim came in right on time and we were off to change my life!
I met with Michael Vaughan and Jim for about an hour.  I found it odd that they didn't really ask me how much I wanted to do the show.  Probably for the best because I had no idea what it was worth but I was still surprised they never brought that up.  When we were done talking, they slide a contract in front of me that basically guaranteed me $241,000.00 over the life term of the agreement.  That was $78,000.00 each year for the first two years and $83,000.00 for the third year plus some bonuses.  For that they would have the exclusive right to advertise, sell, market and license "Buffalo Dick" for broadcast and rebroadcast by radio stations.
I thought that was amazing!  Was this stupid little show really worth that much to a kid from Grand Blanc, Michigan who was doing the show in his Dad's basement?  Wow.  I thanked them for the offer and the David Letterman experience and told them I would take this home and let them know in a week or so, but that I had to see what "Westwood One" had to offer.  The look on their faces told me right then that Westwood One was a company to be taken seriously.  They looked a little shocked and disappointed and maybe a little scared that Westwood One was in the bidding too.  We stood up, shook hands and Jim took me to the airport personally.  No limo this time.  All the way there he was telling me how huge the show was going to be and how much I would like working with this great company.  Everything you would expect to hear at this point.
I caught the plane home and couldn't wait to tell my family about the trip.  Dad and Bill both said that it sounded good but don't make any decision until meeting with Westwood One.  They knew I couldn't wait to sign with somebody.  What they didn't know was how much pride I took in trying to be mature and thoughtful about this moment.  I was going to hear from everybody before making a decision.
The Westwood One trip was scheduled for the next day.  Man this was moving fast.  I kept looking at the contract from London Wavelength just to make sure I heard the numbers correctly and that it wasn't $7,800.00.  Nope.  It was still $78,000.00.  While I was sitting there the phone rang.  It was George Salovich from Atlantic Records.  He was the Vice President in charge of marketing for all of Atlantic Records.  He went on to tell me that he had done all the marketing for the "Rolling Stones," "The Blues Brothers," "Led Zeppelin" and several other names I can't remember.  He wanted to meet with me too.  I said, "Sure, where are you?"  He told me New York and that he would make the flight arrangements.  "When can you come out?"  I told him that I just got back from there!  I was there two days ago.  He laughed and said, "You won't mind coming back to New York will you?"  I said, "I'd love to but I'm leaving for L.A. tomorrow to meet with Westwood One but I'd be back the day after that."  Then I just heard what I said played back in my head.  Who am I, Donald Trump?  But you know what?  It's much easier to get a good deal when there are other people offering too.  And it wasn't a deliberate attempt to impress him, I was just trying to tell him when I would be available.  But it DID sound cool.  I had to chuckle.
George said, "Well why don't you come out Friday morning and we can talk and I can have you home Friday night?"  Sounded good to me.
The next day I arrived in Los Angeles.  There was a guy with another sign that said, "Buffalo Dick."  Okay THAT cracked me up.   Out of context, a guy holding a sign that said "Buffalo Dick" could be taken any number of ways.  It was Brian Heimerl from Westwood One.  No limo this time, we drove to Culver City in his car but I didn't mind.  He went on and on about how he and Norm Pattiz (the President of Westwood One) had laughed their asses off at the demo tape.  He asked , "Are the numbers for this show really as good as you say?"  He was referring to the ratings.  The ratings were unbelievable.  The show was huge with kids, young adults and we even had like a 75 share 25-54.  I told him the numbers are real.
When we got to Westwood One it was an amazing place.  Offices and cubicles and in the back a couple of really great studios full of every recording toy you could imagine.  After getting the tour of the place we went into Norm Pattiz' office.  He stood up from behind his desk and said, "Howdy Hi Buffalo Dick!"  We shot the breeze for a bit and then started talking turkey.  Norm told me that he started this company with $10,000.00 and now it's become the nation's largest producer of live concerts and special programming.  Casey Kasem recorded his show, "American Top 40″ here in THIS building.  He named some other shows that were probably equally impressive.  Then he said, "We would like to carry your show.  We've never had anything like it and I think it will be a huge hit."  He went on, "Are the numbers really as good as you say?"  I can see they've discussed the numbers a lot out here.  I assured him they were and I even pulled the ratings out of my briefcase.  Peter C. said those would come in handy.  They both looked at them and just shook their heads.  They wanted to offer me $50,000.00 a year and they would handle the duplication, distribution, sales, and licensing.  Basically everything London Wavelength had offered only $28,000.00 less.  I brought this up.  They looked at each other then Norm said, "Jeff, you know they can cancel at anytime.  So can we but here's the difference.  They WILL cancel within six months.  They are a very good company but they don't have the horse power to pull this off.  They have nothing like this show and I'm telling you they won't know how to get it on the air.  London Wavelength can't clear enough stations.  They will cancel it.  So you'll never see $78,000.00.  You'll never see $50,000.00."  He went on, "We have such great relations with our stations and such a strong system in place that this show will be on the air lightning fast and we're all going to do very well."
I said, "Yeah but that's a big difference in price.  Don't you think?"  Norm said, "Jeff, you're focusing on money and not the big picture.   That offer won't mean anything if they can't get it done.  We are the biggest and best for a reason.  We get it done.  You'll be well taken care of here.  Look at the names we have.  Look at the shows we have.  All these people we represent, chose us for a reason and they are all making great money."
Man, this guy was good!  We talked a little more and I told him I still had to meet with George Salovich see what he's got.  They said, "Who?"  I told them that George was the Vice President of Marketing for Atlantic Records and that we were meeting in two days.  Norm said, "He's a marketing guy.  He's not a syndicator.  You need a syndicator.  I'll bet he's never syndicated anything or we would have heard of him."  I told him that I was sure he was right but that I owed it to him to at least hear him out.  I would have an answer in a few days.
We got up, shook hands and Brian took me to the Century Plaza Hotel and said he'd be back around noon the next day to take me to the airport.  I checked into my room and went down to the lobby.  I had just gotten off the elevator and I see a commotion at the far end of the lobby coming in my direction.  There were people with video cameras and lights walking backwards towards me.  They were shooting what looked like a moving huddle.  In the middle was a black man with a Mohawk and a powder blue satin windbreaker.  It said "Rocky III" on the back of it.  The movie wasn't out yet so I had no idea I was looking at "Mr. T" but it was a cool commotion.  I was glad I saw it.
Then I exited the hotel which is literally a giant plaza.  I think I took an escalator up to the next level and there were stores and restaurants and…. The Playboy Club!!"   I'd never been to one and  I was 22 years old so I HAD to..  I walked right in.  I had to show them my key from the hotel.  It was dark and there were framed centerfolds lining the walls.  I saw a lot of girls on that wall that I considered sexual partners through out my teen years.  Just me and them, alone in my bathroom.  I was met by a real life Playboy Bunny and seated off to the side, alone.  I wasn't sure what to expect.  But the waitress told me that, "No we are NOT centerfolds but some of us have appeared in the magazine.  Good enough for me!  Then this young guy and two young girls were seated a table near from me.  I couldn't help but hear them, so I looked around the room very casually and listened to ever word they were saying.
He must have been 29 or 30.  This guy had a great British accent.  The girls were hanging on his every word.  While I sat there they went through at least Three bottles of Dom Pérignon.  But they were mixing it with orange juice.  Finally, a reason to talk to this table.  "Excuse me but why do you mix Dom with orange juice?"  He said, "It's called a Mimosa.  Would you like to join us and try one?"  Who was I to say no.  I slid into the fourth chair at the table and he started with the introductions.  "Hi, I'm (I've totally forgotten by now), this is (again, no idea) and (somebody) Hackett."  Hackett?  "Are you any relation to Buddy Hackett," I joked?  "He's my father, yes," she said.  COOL.  I'm in L.A. after a big meeting, partying with Buddy Hackett's daughter!  Unfortunately she got her father's looks.  After the fourth bottle of Dom (at $120 + a bottle) I asked the guy, "What do you do for a living" (Which is nice for "How much do you make?")  He said he was retired.  He'd made his money in oil.  Wow.  This is GREAT!
When I got back to the hotel there was a message from Brian.  He was reminding me of the flight time for the next day.  I got to the plane and home and the flight was uneventful but I really had a lot of thinking to do.
The next day, I was back at the airport and flying to New York again.  I took a cab from the airport to the address that George Salovich had given me.  When I got off the elevator onto his floor I think I remember it being a little messy on that floor.  Maybe it was just an old New York building.  I met George, a good looking man in his early 40's maybe.  We went immediately into a smallish conference room and started to talk.  Over his shoulder was a life sized cut out of an attractive girl.  I didn't recognize her.  A few minutes into the chat a girl walked passed the half open door to the conference room.  George shot out of his chair to the door and said, "Maria, I'd like you to meet a friend of mine."  She turned around and came back.  It was the girl in the cut out.  George said, "Jeff, I'd like to meet a great singer we just signed.  You're going to be hearing a lot from her.  This is Maria Carey."  Nobody had heard of her yet so it didn't dawn on me to be overly impressed.  I shook her hand, she smiled and went on to do whatever she was there to do.
George started reading off a list of people for which he handled the marketing.  It was impressive.  All the big Atlantic artists.  He went on to tell me, "You've got some pretty good names there that actually do syndication.  I never have so you'd be best off using them."  I'm thinking what?  He's already backing out?  Why did he fly me here to tell me that?  Then he said, "But the one thing I know better than anybody is marketing.  I see Buffalo Dick hats, t-shirts, boots, clocks, Frisbees, any number of marketable sundries for the age group that this show appeals to.  So what I'm proposing is, you syndicate with them, but give me the marketing rights."  This is just getting better and better.  I told him I didn't know if they would give up the marketing rights but I'd sure be interested in working with him and discussing it with the two other companies.  We stood, shook hands and he said, "Have you eaten?"  I said that I hadn't and he knew a place he wanted to take me that he thought I'd like.
At 22 years old and being from Flint, Michigan I'd never heard of the "Russian Tea Room."  It's only one of the most famous restaurants in New York.  We were seated in a booth on the left side of the restaurant.  While we were talking, George excused himself and hit a couple of tables to shake hands.  When he came back, he said, "Do you know who that is?"  He was pointing to one of the booths he had just visited.  "Nope," I didn't.  He told me, "Carol Bayer Sager."  Later I would find out that she wrote "That's What Friend's Are For" and "Arthur's Theme" for the movie Arthur.  She's done work with Neil Simon.   This list goes on.   All written after I had seen her so I didn't have any idea until years later.   It never dawned on me to look for celebrities.  After a quick look around I saw Roger Mudd, the CBS newsman and Gabe Kaplin of "Welcome Back Kotter."
When I got home, I called London Wavelength and told them I think I'm going with Westwood One but thank you so much for the offer.  I called Westwood One and told them I would take there deal with one change to the deal.  I wanted George Salovich to handle the marketing of the show.  They agreed and we were off!
P.T. Barnhum Lives
Peter C. Cavanaugh has a lot of P.T. Barnum in him.  When he heard the news, he said, "We have to do a LIVE show someplace to mark this occasion.  This will go down in Flint radio history!"  Pete is a  master of hype and promotion.  You know I believe in selling the sizzle.  I called my friends at Russellville Ballroom.  When I told them that we would like to do a live broadcast from there to announce that my show was going national, they thought that would be great.  We had no idea how much work lay ahead for us to pull this off.
We had a place.  We knew what station would be carrying it.  We were pretty sure I was going to be there, but how do we pull this off?  We had to get equalized phone lines run to the ballroom.  I would have to move my entire studio and massive P.A. system to Russellville.  We would need our real live gallery of kids.  And wait a minute!  I do all the voices!  How was I going to do ALL the voices LIVE.  In the studio you can over-dub and multi-track the voices one at a time.  But LIVE?
I had become a one man cast of about fifty people because, remember, I wasn't getting paid for this show up until now.  I couldn't afford a cast but I worked cheap!  In the past year I had gotten some help from a friend I went to High School with.  His name is Rob Paulsen.  But he's moved out to L.A. to become an actor and singer.  Maybe he'd come in to help me pull this off.  Rob had created several characters for the show, Uncle Max Weinberg, Big Jim Little and Wayne Bennett.  My sister had become Buffalo Dick's Sister Cow Patty.  And I could do a segment with a bit I called, "It's an hour with Raymond."  That would give us 5 segments.  If Rob is in, we could actually pull this off.
When I called Rob he said he'd be more than happy to come in a couple days early and help me write some segments and do the show.  I don't remember if he flew in on his dime, my dime or Westwood One's dime but it wouldn't surprise me if he even took care of the flight himself.  He's a great guy.  At that time Rob was still trying to get traction in L.A.. He'd done an episode of "St. Elsewhere."   In that episode, a buddy kicked him in the balls.   Rob's character went to the hospital for the pain but it turns out his friend saved his life because they found testicular cancer.  He had also had a line or two in the movie "E.T."
Rob would later go on to become one of the biggest names in cartoon voices.  His credits now include, Pinky of "Pinky & The Brain," Rafael of "The Teenage Mutant Turtles," Yako from "The Animanics" and he's the voice of "Mr. Opportunity" in the Honda TV commercials.  As a matter of fact, his name is usually in the credits of any modern day cartoon.  He's amazing.  One of the cool things about Rob is that when I've read many different bios on him, with very few exceptions, he mentions that he got his start on "Buffalo Dick's Radio Ranch."  How cool is that?
The show was coming at us fast and we were still writing right up to and including the night before.  Now we had yet another problem.  Russellville Ballroom has a liquor license.  How are we going to get a bunch of twelve year old kids in to play the part of the Gallery?  I put Russellville to work on that one.  They assured me that it would be fine.  Between you and me, I think they just figured they wouldn't get caught.  I didn't care so I just looked for the next problem.  We had decided to have fifty T-Shirts for the kids in the Gallery that said "Buffalo Dick's Radio Ranch."  And ten that said "It's an Hour With Raymond."  The printer messed that up and we got fifty shirts that said, "It's an Hour With Raymond," and ten that said "Buffalo Dick's Radio Ranch."  It pissed me off but that wasn't a make or break moment for the show.  At least the kids would match!
The equalized phone lines are important because they can make a human voice sound great and studio quality but it is a special phone line that had to be installed for the show that night.  Voice sounds good, music muddy and like crap.  So now we had to coordinate back and forth from the studio as they were going to play the music and give us our cues on the phone to, " GO NOW!"
My brother Bill volunteered to run the mixing board for the show.  His friend Rick Pogenberg was the guy on the phone with the station telling Bill and us to, "GO NOW!"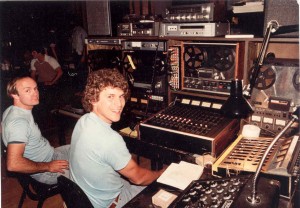 Rick Pogenberg (Left) and my brother Bill (right) at the sound board
WWCK was promoting this show in a way that would have made P.T. Barnum proud!  Peter C. was all over that.  George Salovich was flying in from New York to be there.  There was a guy from Billboard Magazine coming.  I got a section for my friends and family all set up.  This was going to happen!  When George got there he brought a box with three thousand Buffalo Dick bumper stickers and two thousand little boxes that contained real buffalo shit in a sealed clear plastic dish.  On the box was a label that read, "Buffalo Dick's Radio Ranch.  May all your trails be free of road apples."  That was the closing line to the show every week.  This guy was good!  Where do you even begin to look for sealed buffalo shit?  He gave those out to every member of the audience and we had plenty to give away on the air.  I still have one of those.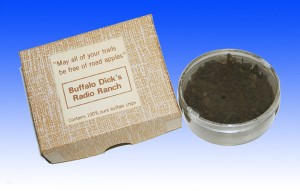 George Salovich brought buffalo chips for everyone
The night of the show was upon us.  Rob and I drove to the Ballroom together working our routines all the way there.  We were basically adlibbing from a premise.  Several times on the long drive out to Russellville we would crack up at something new and say… "Don't forget that.  That's good.  Keep that in!"  I didn't know what to expect as far as a crowd.  I knew the place seated around 800.  Would we fill it?  Would it be close to full or would it just be my invited guest of family and friends.  As we pulled into the parking lot, we couldn't believe it.  It was an hour before the show and there was a line around the building!  We were high fiving each other and really pumped!
When we got into the Ballroom we really couldn't believe it.  They had already let people in.  It was packed.  Every seat was taken, they were standing in the isles and sitting on the dance floor Indian style.  I'm thinking the people outside are not getting in.
After this experience I don't believe celebrities when they say, "I'm not nervous, it's just a good excited energy I'm feeling."  I'm thinking, don't throw up.  Don't crap yourself.  Stop shaking.  I had been in front of hundreds of people before.  Many times and I wasn't nervous then because I knew what I was doing.  I'd done it.  But here's the difference this time, I wasn't playing other people's hit songs that I knew people already liked.  Tonight I was doing MY material.  If you play a song and it dies a terrible death, you pull out Michael Jackson and the crowd instantly forgives you.  Michael wasn't here.  This was a live show.  It was my work that would either succeed or fail miserably.  It's show time.
As a tribute and out of respect to my dad who had taught me everything I know about anything, I asked him to introduce the show.  It had been a while since he had been in front of a crowd  and I thought he might enjoy it.  He said he would be happy to introduce the show.  The house lights went out.  We waited for the cue from Pogenberg.  The crowd started to settle and hush.  We waited.  Suddenly, from the darkness we hear, "GO NOW!"  The stage lights came up.  Dad was on his mark and I hear his big booming famous announcer voice say, "Live, from Russellville Ballroom, It's Buffalo Dick's Radio Ranch!"  The crowd erupted!  I was so proud at the moment.  Forget the trips, the awards, the ratings or the national contract.  The fact that my Dad had just blasted out that show introduction made the show legitimate for me for the first time.  And man did he sound good.
The opening music came on next.  Then I came out, sat at a desk with mic and said, "It's time for Mom and Dad to leave the room because your old pal, Buffalo Dick is on the air!!"  The crowd cheered even louder!  I went on, "Howdy Hi Buckaroos!"  The kids didn't miss a beat, in perfect unison, "Howdy Hi Buffalo Dick" My turn again,  "Well I hope Mom and Dad have left the room cuz your old pal Buffalo Dick has got some more un-Mom & Dad stuff to talk to you about again tonight.  But before I get into that, let's bring out my cute cuddly adorable little side-kick buddy, Buffalo Chip!"  Again the crowd cheered wildly.  They all looked at the door on the stage to see Buffalo Chip.  They didn't know it was just a guy in his dad's basement doing all the voices they listened to every week.  Then I said in my high squeaky Buffalo Chip voice, "Howdy Hi Buffalo Dick."  Then back to Buffalo Dick, "Howdy hi little buddy!" Back to Chip, "Boy we've got a great show for them today huh Buffalo Dick?"  Back to Buffalo Dick, "You bet your pooper scooper we do little buddy!  Tonight we're going to talk to Uncle Max Weinberg, Big Jim Little, Wayne Bennett and Cow Patty!  Stay tuned cuz we'll be right back" Then the kids with perfect timing screamed, "Buffalo Dick's Radio Ranch is Flint's Best Rock!"
The opening segment went off without a glitch.   Most of the fear left my body.  I knew what I was doing after all (so far).  The same thing I'd been doing all along.  Now we would just have to leave pauses for laughter and applause.  This was great.  We're getting ready to come back from the music break, Rob is standing by behind the door.  It became clear that the only amateur here was ME.
"GO NOW!" yelled Pogenberg.  "We're Back!" I yelled and the crowd was so excited.  It hadn't dawned on me that these people had never seen a live radio show before.  Live radio from Ballrooms died decades ago.  They never should have because this was Magic.  I introduced Uncle Max and Rob came out in a Hawaiian print shirt, shorts and sandals with sox on and did five minutes with me that were just hooolarious.  He did a fantastic old Yiddish man and he's brilliantly funny.
In the next segment he came out as Big Jim Little with a Tonka dump truck around his neck on a chain.  The premise was a big game hunter who doesn't kill animals.  Instead, he hunts large farm implements.  He learned in Africa on a big hunt how to sneak up on an Allis Chalmers road grader, cut the lines and slowly bleed it to death.  He had met a pigmy tribe who taught him how to shrink them down like the dump truck he had killed and was wearing tonight.  Another Home Run!!
Rob Paulsen as "Big Jim Little"
Raymond was a character I had come up with while smoking pot with a friend of mine named Randy Rose.  We would sit and ponder weird stuff when we were high.  So Raymond became a typical stoner with an unusual thought process.  He was very popular.  His delivery was very similar to comedian Steven Wright, but this was years before Steven Wright.  But that's probably the best way to describe Raymond.  It was his turn to come out, so I put on an "It's an hour with Raymond" T-Shirt and a flat cap and a pair of sunglasses and now I was Raymond.
Raymond Live at Russellville Ballroom
On that night Raymond became Dr. Seuss on acid.  The crowd loved Raymond.
My sister Becky did a great job as Cow Patty and looked like Daisy Duke.  Then Rob came out again as Wayne Bennett in a burgundy sweat suit and a large gold chain around his neck.  Wayne Bennett was a Las Vegas name dropping entertainer.  Make no mistake, Rob is a hell of a singer, so he could really pull this off.  He came out and sang "Bubbles in the Pudding" written by my brother Bob.  It was a song about a guy sitting in his pudding making bubbles.   The crowd ate it up.
Time for the show close.  By now we had it down.  "GO NOW!!"  Buffalo Dick says, "It's time for your old pal Buffalo Dick to hit the road.  So until next time, may all your trails be free of road apples!  Adios Muchachos!"
Everything was perfect up until now.   However, now I was about to commit one of the worst acts I have ever committed.  After the station took over and was playing the music and we were clear (as they say), I stood up grabbed the mic and thanked everybody for coming.  Peter C. got up and said a few words of praise for the night. I took a nice round of applause and in all the excitement, this attention whore that I've always been, totally and completely forgot to bring Rob Paulsen out and not only publicly thank him, but let him take HIS bow.   I so selfishly stood there eating it all up and drinking it all in that I completely forgot about my good friend who so unselfishly gave and gave to me.  To this day I feel like crap.  When I went back stage, there was Rob with a huge grin on his face and big hug for me and a million atta boys like nothing had happened.  Like I hadn't disrespected him on a nuclear level.  I was so busy taking in all his praise for the night and for me that what I had failed to do didn't hit me until we were driving home.  I apologized up and down and back and forth.  He had more class at that moment than I could believe.  He said, "Jeff, this was your night.  I'm so proud of you buddy and couldn't be happier.  You ROCKED!"  I'll say it again here for what it's worth.  I am so sorry Rob.  You are just amazing.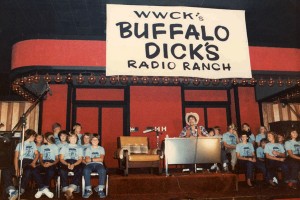 Me with the gallery of kids
Rob as "Wayne Bennett" in the guest chair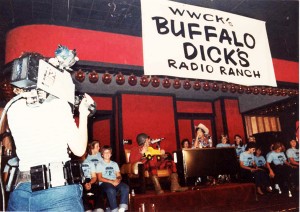 Rob as "Big Jim Little" with his shrunken truck and army helmet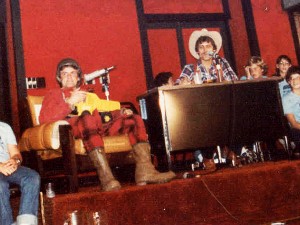 Rob as "Big Jim Little" and Me
Let's Go National
Now that I was getting paid for the show I really want to make my brother Bob a big part of all of this.  Bob had written several segments for the show in the "free" days.  He's honestly one of the funniest people I've ever met.  His mind just works differently than mine or anybody I know.  It takes Bob a long time to "get" a joke when you tell him one.  But he's lightning fast at generating some of the hardest laughs I've ever had.  And he's been doing that since we were kids.  Bob can't remember a cliché to save his life but man does he see the funny side of everything.  We were little kids driving home from someplace at night and we were passing the Sheraton Hotel.   There was a giant red neon sign across the front.   The "R" in the word Sheraton had burned out.  Something most people wouldn't even notice.  And if you did notice it, that would be it.  It's not even comment worthy.  Bob just out of the blue, shatters the silence in the car by breaking into an announcer voice and calmly says, "Sheraton…..where we take the red out of R."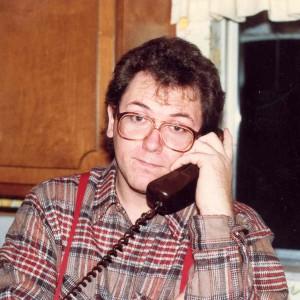 My brother & co-writer Bob Lamb
Bob started cranking out great scripts for the show.  Because it's "Theater of the mind" radio, sound effects are essential to making a bit work.  If you fall down, there had better be a "thud."  If you throw a rock through a window, glass has to break and you have to hear the rock hit the floor after and it should roll a little too.  Bob used to delight in creating impossible scenarios knowing that our sound effect library wasn't the most extensive around.  This would make me have to create that sound we didn't have, pulling your foot out of mud, for example.  What sound does a trapeze make?  But you can't just say, I'm on a trapeze.  We had a character named Stuntman Dave who spoke in a real slow southern drawl and would come on the show to do incredible acts of daring.  The problem with him was, he was never prepared in advance.  He would ask, "Do yun's wanna see me jump from a 10 foot ladder onto a bicycle without a seat?"  The kids would scream "YEAH!!"  Dave would then say, "Got a Bicycle?"  Anyway, Bob had Dave lighting his face on fire in one bit.  WHAT SOUND IS THAT?  I ended up using a hot frying pan and set it in cold water.  That sound seemed perfect with a little bacon frying on the next track.  We challenged each other.  He would write these wonderful scenarios and it was my job to bring them to life with characters and sound effects.  It was a blast and this show was a team effort all the way.  We needed each other at this level.
It wasn't long before we started getting lists from Westwood One telling us which cities had picked up the show.  So Bob and I ran out to an office supply store and got a big map of the United States and some push pins with little flags on them.  We would write the name of the station call letters on the flags and stick them in the city that just picked up the show.  Every week we added more.  Westwood One was really moving the show!  Before the show ended we were in over 100 cities.  Our map was looking pretty impressive.
We were still waiting for a top 10 market to pick up the show.  We were in cities like, Lufkin, Texas; Gaffney, South Carolina; Kaiser, West Virginia; Carmel, California.  The show was also somewhere in Wisconsin.  One night the DJ at that station got a call during the show.  The voice on the other end said, "This show is nuts!  I listen all the time.  Please tell Buffalo Dick that Bart Starr said so."  The DJ wrote a letter to Westwood One and they passed it on to me.  I knew what markets we were in but I didn't know if the show was popular in those markets.  At least I knew now that Bart Starr liked it.
Everything was going along smooth sailing for about a year.  Then one night I get a knock at the door.  I opened it to man who handed me a telegram.  Cool!  I'd never gotten a telegram.  I opened it and it said something to the effect that, "We regret to inform you that because we haven't been able to secure any top 10 markets, we will be canceling our contract with you effective immediately.  Sincerely, Norm Pattiz."
My stomach sank to my feet.  I stared at this telegram like it would change into "just kidding."  I felt like a mother getting a telegram stating that her son was killed in Vietnam.  I'm serious.  They had just killed my baby.  I went from the Penthouse to the Shit House in 10 seconds.  I was devastated.   My first call was to Bob.  It was one of the few times even Bob couldn't find humor in a situation.
The next day I called Westwood One.  Of course now I couldn't get Norm on the phone but they sent the call to Brian.  I said, "What the heck happened?"  He explained, "We couldn't get any top 10 markets Jeff.  Without the top 10 there is no syndication deal.  Sponsors want top 10 or nothing."  I said, "We've had Budweiser spots in the show.  Are you telling me they don't think people in Toledo drink Budweiser?"  He tried again, "We've been placing those ads in your show for FREE.  If they buy this concert or that concert we give them Tallahassee by way of your show.  They won't buy your show unless it comes with major market too."  My next obvious question was, "Why can't you get it in any top 10's?  What's the problem?"  "They think we're asking too much," he told me.  "How can that be, you're bartering the show for commercial spots?"  That means that I give you the show and you give me 10 minutes of air time that I can sell to Budweiser or Pepsi or whoever.  Then you can sell all the other minutes for yourself and the show doesn't cost the station cash.  Just air time. Brian continued, "In the small or medium markets a commercial in the 10 O'clock hour on Saturday night might be $20.00 bucks or $200 a week that would probably go unsold anyway.  In the major markets it might be $350.00 for that same one minute.  So the top 10's are saying for $3,500.00 a week, we'll get Casey Kasem here live AND he can clean the bathrooms too.  We're not spending that much money for one hour of syndication.  I'm sorry Jeff.  We really wanted this one to go.  Norm still loves it."
What the hell does that mean?  Norm still loves it.  I can't cash "Norm still loves it."  I really sank into a deep depression.  I'm 22 now and a has been.  After a couple of days I started getting more telegrams.  This time from the stations that had been carrying Buffalo Dick.  The phone was ringing like crazy too.  They were all pleading with me to fix this with Westwood One or find another damned syndicator.  The show was pulling the same numbers in their cities that it was in Flint.  They'd never had such a successful show.  I told all of them start re-running the shows from show #1 and I'll try to get another deal before they run out.
I jumped on the phone to London Wavelength.  I told them what Westwood One had done.  I told them about the telegrams and phone calls and the ratings it was pulling in the markets that were running the show.  They said, "Well gee, if Westwood One can't make money with it I don't think we could either.  Sorry Jeff, we can't help you now."
Depression was setting in again.  I sat around feeling sorry for myself.  We attention whores have fragile egos.  I got a call from my buddy Kipp (the drummer from the GBHS Dance).  He was now a water ski instructor in Florida.  I told him what had happened.  He said, "Well get your ass down here for a few weeks.  You'll forget your troubles in a heartbeat."  It sounded pretty good.  I needed something to do.  After all Buffalo Dick was dead.  Or was it?
I looked at the map and called 3 of the stations that had been running the show.  First call, a guy named Steven Yates at KRBA in Lufkin, TX.  "Steven, this is Buffalo Dick calling.  You're still running the show right?"  He said "We sure are!"  "Well," I went on, "I'm putting together a live tour.  Here's how it works.  You fly me in to Lufkin, line up a big night club, we'll do the show live at that bar and it will only cost you $2,000.00 you can get the bar to pay for most of that!"  He said, "You're on!  Let's do it."  We picked a date.  Then I called Tallahassee Florida.  Same pitch, same result.  I booked that one for two nights later than the Lufkin show.  I told them to book me a flight from Lufkin to Tallahassee and then I booked a flight from Tallahassee to Ft. Lauderdale.   I called the station in Kaiser, West Virginia and booked them for on my way home.  They flew me from Ft. Lauderdale, then back to Flint the next day.
I pre-recorded some promos for the upcoming shows and sent them off to the three cities.  A week later I was on the plane to Lufkin.  I had been so busy planning the trips that it hadn't dawned on me to actually write a show!  Ooops.  I wrote the show on the plane on the way to Lufkin.  I had now, the same problem that I originally had with Russellville.  How am I going to do ALL the voices live.  I decided to write a script for one of their DJ's so they could interview all the characters.  They were essentially playing the roll of Buffalo Dick but as themselves.  They had funny lines and so did the characters.  It was a gamble but I didn't have a lot of options.
I landed in Lufkin and one of the jocks  picked me up at the airport.  He had his radio station on in the car and go figure, there were a ton of mentions about the show!  Then his announcer said, Buffalo Dick will be here soon!  We'll have him live in the studio in the next few minutes.  They were genuinely excited that I was there.  They thought they had a celebrity in town.  Who was I to ruin the moment.  We got to the station and I'm here to tell you, this town was Mayberry.  The station was located downtown which looked JUST like Mayberry.  The studio had a big window like they had converted a store front into a radio studio.  Like the "Today Show" on a much smaller level.  It was very quaint.
I walked into the studio and Steven Yates was on the air and asked me if I minded going on the air live with him.  Are you kidding?  The attention whore turn down a microphone?  They didn't know who they were dealing with.  The song ended and we just started talking and I was breaking into one voice after another.  They were cracking up and that's all I needed to keep going.  Within 15 minutes there was a crowd outside the studio 8 deep trying to see what Buffalo Dick looked like.  It was surreal.  I'd never stepped foot in this town and they loved me!  I was trying to act like this was another day at the office but it was, seriously, all I could do to keep from choking up.
That night they took me to "Mother's" night club.  It was packed.  People were literally hanging from the rafters.  It was a good sized room too.  I came out as Buffalo Dick, did the usual open that I always did on the show.  Then went back stage to change costumes.  Now I was Raymond.  They LOVED Raymond, but "Everybody loves Raymond" (I had to go there sorry).  Then I went back to change again.  Now I was Patrolman Skip, the gay cop.  I came out and this time I was interacting with their DJ for the first time.  They started booing and really hating me.  The bit ended and went back stage to change again.  I came back as Uncle Max.  They started cheering again.  It was clear that they're a little homophobic in Texas.  I went back to change again.  While I was changing I heard a little commotion out front.  I stuck my head out to see what was happening.  There was a great big pot bellied cop on stage and he was just taking the mic off the stand.
He was so stereotypical.  Hollywood casting couldn't have picked a better looking and sounding redneck southern cop.  He said, "Well, I think you folks have had enough fun for one night.  Y'all go on home now.  Go on.  Go on outta here for me now."  I'm thinking what the hell?  And then everybody just went home.  Just like that.  I've never seen a place clear that fast.  While it was emptying out, the cop came backstage and said, "Hey, could I git yer autograph?"  I said, "Sure, hey, what just happened there?"  He said, "Well we're in a semi-dry county here and big crowds and booze make us just a little skittish.  We do it all the time.  It's not you friend."  I said, "Wow.  I've never heard of a Semi-dry county."  Bubba then said, "Al cohol (just like that and slow so I'd understand) We only allow al cohol a couple nights a week and only in certain places.  Thank yee for the autograph, y'all come back now."  I wish I was making that up.  No I don't.  I wouldn't believe it if I hadn't seen it either.
I got this letter from Steven Yates sometime after.
Dear Jeff,
Just thought I'd drop you a note to let you know how well "Buffalo Dick" is doing on Y99.  We have two sponsors that show no signs of ever giving up the program, and a listening audience that, as far as we can tell from telephone calls, ranges from pre-teens to doddering old-agers.
Remember when you flew into Lufkin, took over my air show, and we had half of Lufkin lined up in the front of the studio window to see the real "Buffalo Dick?"  People are still talking!  We'll definitely have to do that again some time.
Meantime, keep up the good work!
Best ever,
Steven Yates
KDEY Radio
Tallahassee was a very similar experience,  then off to Ft. Lauderdale with Kipp!  Kipp and I were roommates after high school for quite a while.  Those were some of the best times I can remember.  I was working in the bar and always had female company.  Rarely the same one.  That was my attention whore/male whore phase.   Kipp had a girlfriend so he always had company too in his room.  We used to pull this same stunt on each other and it never got old.  There was a goofy ho-down type song that was never a hit anywhere by Norton Buffalo.  As a DJ I always had a lot of records, mostly good but a lot of crap.  Anyone else would call this song by Norton Buffalo Crap.  But not us.  It was called "18 wheels."  Here's how the stunt went.  For some reason and I don't think it was ever spoken.. Just one of those unwritten laws in our little castle.  No matter what you were doing, if the other guy played that song, you HAD to come running and lock elbows with each other like a square dance and jump around, elbows locked, until it was done.  Just a dumb guy thing.  Wait.  It gets better.
If one of us KNEW the other guy was "in the saddle" in the bedroom, and the more people in the living room the better.  We would drop the needle on "18 Wheels" forcing guy to stop whatever he was doing and come running out to do the stupid square dance.  I gotta tell ya, there's not much funnier than saying, "Hey you guys, watch THIS!"  Then dropping the needle to see a sweaty Kipper come running into the living room with a hard on screaming, "You son of a bitch!"  I'm not sure which was funnier, Kipp or the looks on the guys and girls faces who had no idea what was going on or why!  He nailed me with that many times too.  But hey, you had ta!
Another time I wasn't home but Kipp had a bunch of his band buddies over and they were smoking pot.  They had Bongs, power hitters, one hitters and any kind of pot smoking paraphernalia you could imagine.  Kipp described there being so much blue smoke in the air that you couldn't see the TV on the other side of the room and it was on.  Suddenly the door buzzer goes off.  Kipp says on the intercom, "Who is it?"  It was my brother, "It's me, Bill.  Let me in and whatever you do, don't look out the window.  I have a surprise for you."  Well if you've ever smoked pot you know a couple things happen.  You get hungry, and there's no way you're NOT looking out the window.  Kipp ran to the window to see a Greyhound bus with about 30 people getting off single file and heading for the door.
"HOLY SHIT!  Put all this shit on the balcony quick!!!"  They were scrambling like keystone cops to put the bongs and one hitters and everything outside and pull the drapes.  Not much they could do about the blue cloud of smoke or the smell.  What this group of 30 people turned out to be was the damdest thing.  Someone in my parent's neighborhood got the brainstorm to rent a bus and go driving around "Christmas Caroling" and everyplace they went, they would pick up that couple and the group just kept getting bigger.  So here comes a parade of my parents good friends in the door, up the steps and through the front door like an ant colony.  First one through the door came in sniffing and said "HIGH" in a loud shrill voice.  Then it was one after the other.  A who's who of my childhood.  My parents would be soooo proud.  Mom was sick and they didn't make the trip but I'm sure they heard about it.  I got full credit and wasn't even there!
Anyway, it was great to see Kipp in Ft. Lauderdale.  I hung out, had a great time and really didn't think about Buffalo Dick all that much.  It may have been just what the Doctor ordered.  We hit a few clubs and much to my relief, he didn't own a Norton Buffalo album.  His girlfriend was definitely a hottie.  He had traded up from the previous girlfriend.  I think we hit the beach or a pool or something while he was at work.  There was some reason I remember seeing her in a bathing suit and all I could think was, "You lucky Rat Bastard."   He had it going on down there.  He was teaching a whole new kind of water skiing.  Instead of skiing behind a boat.  There was this overhead tow rope arrangement that went around this small lake and a ski handle hung down and you were pulled by that.   Kipp was actually rated nationally and was the only guy to do a "Flying Indian" or some damned move he either invented or perfected.
I left Lauderdale to head for Kaiser, West Virgina.  It was a flop.  Very few showed up and I couldn't wait for it to end.  One reason, it was a dud and the other reason there was a cute waitress waiting for me at the end of the night.  I stayed at her place and I got up late.  I missed my flight so they had to re-book me to another one.  They didn't have anything that would get me to my connecting flight on time.  I was feeling really bad.  The show was crap and now I was a pain in the ass.  One of the DJ's, I think his name was Michael, was a pilot and said, I can get him to his connecting flight.  So we jumped in a Cessna and took off for the connecting airport.  It was pretty cool.  I'd never been in a small plane before.  About 10 minutes into the flight I reached into my bag for my ticket info and realized I hadn't missed my flight, I was looking at the old ticket from Lufkin.  So we turned the plane around and made my flight home no problem… except for the DJ who had rented a plane for me.  I'm such a knob.